Content Management Services
You know you need to update your website. But who has the time?
Fresh content is the key to getting results:
Get found by search engines

Attract new visitors

Convert visitors to customers

Get return visits & repeat customers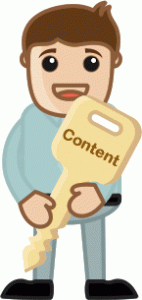 You have only a few seconds to grab the attention of your website visitors. But creating great content takes professional expertise and time you don't have. Let us help you make your web content effective!
Can you respond "True" to ALL of these statements about your website content?
My target audience is clearly identified.
My content asks the audience to take some action online. (e.g., requesting information, subscribing, Liking on Facebook, ordering)
The key messages are clear and near the beginning of each page or section.
The content is organized logically. Topics are labeled clearly and related topics are found near each other.
My content is written in "plain language". It is clear and concise.
The reading level matches the experience and education of the audience.
It contains no typos or errors in spelling, grammar, word usage
The level of detail fits the needs of different audiences. - Those who need to know details as well as those who want to cut to the chase
Jargon is avoided. My audience would be comfortable with the vocabulary.
Help is available for those who are new to the subject. (e.g., explanations, examples, definitions or a glossary)
My content is visitor-centered. It is written from the way that visitors expect to, or want to, use the information versus how you want to tell it?
If you responded "false" - or "don't know" - to any of the above, we can help you...
Save time
Get a better Return On Investment
Improve Search Engine Optimization ("SEO")
Attract the "right" audience
Grab and sustain the attention of your prospects and customers
Provide a better "user experience"
Attract new visitors
Increase likelihood of return visits
For any new or existing website, we can...
Evaluate your current content
Recommend content changes
Reorganize your content
Write content
Edit your content
Provide content strategies
Services are available on a per-project or hourly basis. Contact us to consult on your specific needs.